Paraig O'Brien was attracted to a career as an occupational therapist (OT) because he was unable to make up his mind whether to follow the arts or the sciences. "OT seemed to integrate both subjects and at the same time address people's real human needs." Thirty-two years on, his career has included roles in clinical practice, product design and testing, health and social care management and academia: "OT has been the passport to it all."
It is a view shared by Cathy Curtis-Nelson, who is service manager (localities) for Denbighshire county council in Wales. Curtis-Nelson, who originally had the ambition to become a lawyer until she visited a hospital OT department as a sixth-former, says: "I could see that OT was something which was really purposeful. You could see an outcome and a role that was really positive."
O'Brien's career path illustrates the range of options available in OT. There are 11 recognised professional specialisms, including children and young people services, older people care, mental health, learning disability and housing. There are also opportunities to work with the increasingly older prisoner population as well supporting people to beat obesity. It is a female-dominated profession: 20% of the workforce is male. Most (60%) of OTs work in the health service; 40% are career changers. A newly qualified NHS OT can expect to start on a minimum of £21,000, with more experienced OTs earning £25,700-£34,500. OTs in social services usually have a higher starting salary of around £23,000, with senior practitioners earning around £33,000.
Julia Skelton, director of professional operations at the College of Occupational Therapists (COT) with responsibility for workforce, says: "The big growth area in reablement services is huge and another growth area is the new roles in assessing people for welfare benefits."
Current job opportunities are good in social care where, according to COT, the vacancy rate in England is around 8%; in London that rockets up to 43%. In the NHS in London, some trusts are relying on agency staff to fill long-term vacancies. Skelton says: "Recruitment is critical in London and there are other pockets such as rural areas where recruitment is still a problem. But outside London, supply and demand is more balanced." According to COT, 78% of OT graduates in 2011 from the UK went into OT roles.
Annabel Burns began her career as an OT and is now chief executive of Greenwich clinical commissioning group. She is confident that her OT background has made her a better senior manager. "I feel I draw on my OT every day", she says, " because the focus is about integrated care and supporting people in their own home, working across health and social care. All our services go back to the individual patient and it's about giving them choice – that is exactly what the OT model is".
Suzanne Rastick: 'OT skills can be used to lead and manage services'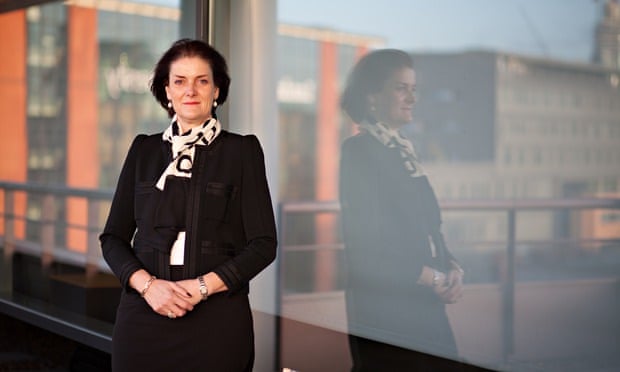 Suzanne Rastick knew from the age of 12 that she wanted to be an occupational therapist: "There was something about problem-solving, about looking for solutions for service users and being able to make a difference."
Rastick began her career in the hospital sector, specialising in biomechanics and orthotics. By the age of 25 she was a head OT; four years later she took on her first general management role as a hospital matron. That was followed by a range of senior management positions including director of nursing, a primary care trust chief executive and director of quality for a clinical commissioning group.
Today, Rastick is chief allied health professions (AHPs) officer for NHS England where she has responsibility for all 12 AHPs including OTs. Rastick, who took up the job in September, says: "For me, it has always been about applying my OT skills in any role I have taken on – having that professional curiosity, to seek solutions for service users and then to translate that into better services. Finding solutions for one's patients and carers, you have to listen to what their needs are and quite often that translates very well into leading and managing services."
Working in an integrated landscape also comes naturally to her because of her professional background. "The ability to work across different sectors is what OT is about," she says. "For me that is just fantastic."